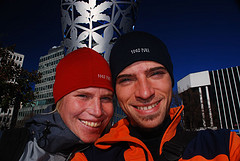 One month ago, we were back from our trip around the world. That was an amasing experience, it is so much a different way of travelling and getting to know other cultures! You may have read all about our experience along our way or seen our photographs from so many countries: Russia, Mongolia, China, Nepal, Thailand, Laos, Cambodia, Myanmar (Burma), Sydney, New Zealand, French Polynesia, Easter Island, and the northern Chile and Argentina.
And we did not get it enough from it! There are still so many places that we want to see, so many things to experience. So we decided to go again on the road.
Not too long, not too many countries this time, and changing of means of transport. Our next adventure will be in Patagonia (southern tip of South America, a region that encompass Chile and Argentina) on our own bicycle.
We will be touring Patagonia for a little less than 3 months with the up and down of the road, weather and our physical and mental strengths. But we anticipate it as a great and rewarding journey.
As with our world trip, we will try along the road to write some of our feelings and experiences on our blog, a dedicated section will open soon. And if the internet connections are not too bad, we will even add new photographs!
There is a whole magical world there, and we are going to explore it!